Paediatric FA Overview
This two-day Paediatric First Aid course provides learners with a broad understanding of first aid injuries and medical conditions a guardian of a child may come across. The course will look at common concerns from choking to child resuscitation, infantile convulsions and asthma.
The course is suitable for parents, childminders, nursery staff and primary school teachers. This two-day course satisfies the guidelines and criteria as laid down by the Early Years Foundation Stage (EYFS) and ESTYN/Ofsted.
Paediatric FA Syllabus
The course is made up of practical and theoretical sessions which include a range of topics are covered including:
Responsibilities
Incident reporting
Assessing the situation
Dealing with an unresponsive child
Cardiopulmonary resuscitation in babies and children
Choking
Blood loss and shock
Foreign bodies
Eye injuries
Burns
Fractures
Head injuries
Effects of heat and cold
Fainting
Diabetes
Infantile convulsions
Anaphylaxis
Asthma
Sickle cell anaemia
Meningitis
Schedule
There are courses running at the following locations across South Wales.
| Location | Date | Lunch | |
| --- | --- | --- | --- |
| Swansea - Towers Hotel | 2 - 3 November 2020 | No | |
Certification
Successful candidates will be issued with an Ofqual regulated Level 3 Paediatric First Aid by the awarding body First Aid Awards (FAA).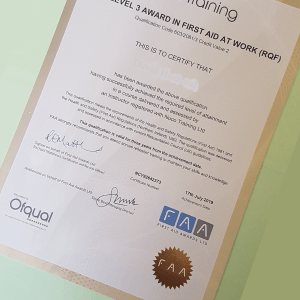 Certification Renewal
The qualification lasts for three years and can be renewed by resitting the qualification.
It is recommended to complete Continual Professional Development on a yearly basis to maintain practical skills and keep information at the forefront.
Candidate Needs
The course involves various practical sessions, where candidates will need to get down to the floor to practise their first aid skills. This will include practising recovery position and demonstrating effective resuscitation for a minimum amount of time. If you have any concerns about carrying out these activities, you should get in touch before booking the course.
If candidates have any physical or learning needs for the group work or for the assessment, this should be notified as part of the booking.
Refreshments
The course will have three planned breaks, with tea and coffee available during the morning and afternoon break. There is no lunch provided and it is recommended you bring lunch with you.
Additional Information
If you have any additional questions, do not hesitate to contact us.
Price Includes
Candidate registration fees
Certification
Course handbook
Small personal First Aid Kit
All training equipment for practical sessions
Price
£128 per person.
Course invoiced after booking, with the option to request at time of booking an invoice payable by credit card.