RFAW Overview
This 2-day First Aid at Work course is designed for those who currently hold a First Aid at Work qualification and their qualification is due to expire.
If you need to train your Health and Safety team on how to undertake a First Aid Risk Assessment for your business, please see our Level 2 First Aid Risk Assessment - Principle and Practice course.
RFAW Syllabus
The course is made up of practical and theoretical sessions which include a range of topics are covered including:
Legalities, responsibilities and reporting
Heart attacks
Dealing with an unresponsive casualty
Eye injuries
Fractures and spinal injuries
Choking
Control of bleeding
Chest injuries
Assessment of the situation
Diabetes
Shock (including Anaphylaxis)
Asthma
Head injuries
Poisoning
Sprains and strains
Stroke
Burns
Epilepsy
Resuscitation
Bandaging
Delivery style
The course is facilitated through group and class discussion to involve all candidates and to ensure all candidates are grasping the board topics ready for the assessment.
There will be practical sessions to practise recovery position, resuscitation and the use of the Automated External Defibrillator.
Candidates can wear clothing that they feel comfortable to support their learning while taking part in group discussions and practical sessions with other candidates. Candidates should be aware they will be practising placing one another in the recovery position and practising resuscitation. We, therefore, recommend flat shoes, trousers and to be cautious of baggy low tops.
Resources
The course includes a First Aid Work handbook produced by Instructuk Resources Ltd to support the course.
Assessment
The course includes a range of assessment methods including interactive group discussion and practical sessions which are monitored by the tutor. At the end of each day, there is a written question paper.
RFAW Prerequisite
In order to attend this training, you need to have previously undertaken First Aid at Work qualification.
Please consider the following rules for attendance:
A First Aider can renew their First Aid at Work qualification by attending a 2-day requalification course without question if it's within 1 month past the expiry date
If the First Aider has lapsed by more than 1 month, but no longer than 3 months, then the First Aider can requalify by attending a 2-day course providing 'Special considerations' have been applied
Special considerations are:
A signed letter from the employer to the provider of the training stating the reasons why in their opinion, the First Aider is suitably experienced to attend a 2-day course and does not require a full 3-day FAW course
OR …
A decision is made by the provider of the training after discussions with the employer, or the First Aider, and deciding that their previous experience is sufficient to attend a 2-day course
If the First Aider has lapsed beyond 3 months then they must attend a full 3-day First Aid at Work course
RFAW Pre-learning
There is no pre-learning for this course.
Post-course
There is no post-course learning for this course.
You can arrange a program of support from Dewi Development Ltd for your staff, this can include ongoing coaching or access to a debrief session. Your staff may wish to access a debrief session following a serious incident at which they utilised their skills and need to discuss the actions they took.
Certification
Successful candidates will be issued with an Ofqual regulated Level 3 First Aid at Work Requalification by the awarding body First Aid Awards.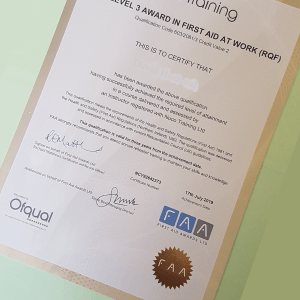 Certification Renewal
The qualification lasts for three years and can be renewed by resitting the qualification.
It is recommended to complete Continual Professional Development on a yearly basis to maintain practical skills and keep information at the forefront.
Candidate Needs
The course involves various practical sessions, where candidates will need to get down to the floor to practise their first aid skills. This will include practising recovery position and demonstrating effective resuscitation for a minimum amount of time. If you have any concerns about carrying out these activities, you should get in touch before booking the course.
If candidates have any physical or learning needs for the group work or for the assessment, this should be notified as part of the booking.
Location
We can deliver the training at your venue which has a suitable training room or we can support you in arranging a suitable external venue. Training at your venue can save you costs but at the same time risk your staff being distracted by day to day concerns that arise, which may not be suitable as they approach the assessment.
Locations will require:
Room big enough to sit 16 candidates to sit in a horseshoe
Tables for group work and assessment at the end of the session
Floor space to practise their first aid skills
Projector and screen with computer connection, however, we can provide a projector with laptop
Supporting local companies in South Wales - Chepstow, Newport, Cardiff, Bridgend, Port Talbot, Neath, Swansea, Carmarthen, Haverfordwest, Tenby, Brecon, Llandovery, Llandeilo, Cardigan
Group courses provided to companies across Wales and England.

Refreshments
The course will have three planned breaks per day, including lunch. No refreshments are included when delivered at one of your venues, but tea and coffee will be included when delivered at a venue arranged by ourselves.
Additional Information
It is important to remember that as soon as the certificate expires, the First Aider is no longer considered competent to act as a First Aider in the workplace which may well leave the employer with a shortfall of First Aiders. Therefore, it would be prudent to arrange their First Aid at Work Requalification before they expire.
While a student can qualify at 14, they may not assume responsibility in the workplace until they are 16 and then it is the employer's responsibility to ensure the individual is suitable for the role.
This course can be completed over a number of sessions, as long as sessions are completed within 10 weeks of starting.
If you have any additional questions, do not hesitate to contact us.
Pricing
Group price for 6 is £718.00* with extra candidates £27 per person to the maximum number.
The group price is based on training at your venue for the maximum number of candidates. If you do not have a suitable training venue, we can work with you to arrange a venue near you at an additional cost.
* If you are further than 50 miles from Swansea, there will be additional travel costs. Contact us to discuss the options.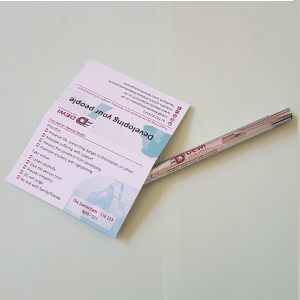 Price Includes
Candidate registration fees
Certification
Course handbook
All training equipment for practical sessions
Great instructors